Hello Lovelies!
So it's getting to that fabulous time of year when I get all giddy like a child, fairy lights become acceptable and I start my festive cheer! So I got this tag off
Bex at Futures
and was created by
Georgina at Make-up Pixi3
and thought it would be fun to do! I love christmas, it's one of the best times in the year, and this year is the first year I'm spending it with my boyfriend, and I'm super excited! So anyway, here's my tag! :)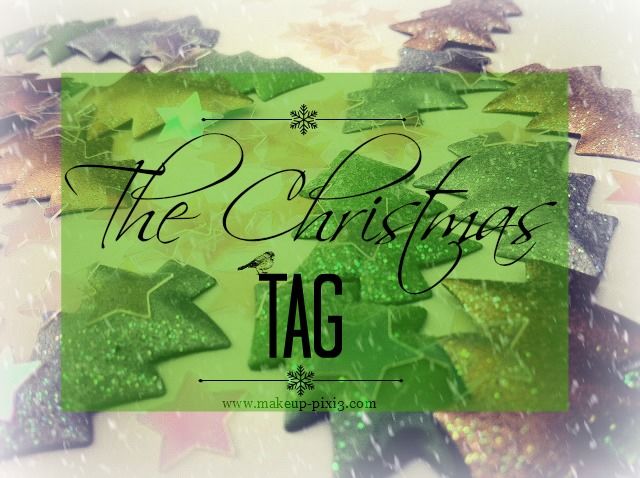 Q. What's your favourite thing about Christmas?
The atmosphere, I just love the excitement of waking up in the morning, every year me and my sister will sleep in her room and up until recent times, would wake up at 5am and check every hour until it was alright to go open our stockings in our parents room! This year might be a little different, but I am still hoping to have a stocking, even if I am 18!! I'm looking forward to being with both my family and boyfriend opening presents this year!
Q. What's your favourite makeup look for the festive season?
I love dark colours! I love the metallic reds and greens, and of course, who doesn't love a little glitter over the festive season?!
Q. Real tree or fake tree?
I've only ever had 1 real tree, and it was a pain! This year is the first year me and my boyfriend have our own flat, so we have a fake white one.
Q. Giving presents or receiving presents?
Both? I love giving presents, I love putting thought into them and wrapping them nicely, with pretty bows and stuff! I like receiving too, like everyone.
Q. Do you open your presents Christmas morning or evening?
In the morning, we all gather round the tree and give them out one by one to each person, so we all open them together :)
Q. Handmade Christmas cards or bought?
This year I'm doing some handmade ones! But of course, I have brought ones too.
Q. What's your favourite Christmas film?
I'm sorry, but it has to be home alone! and when I was younger, it was tradition for me and my sister to watch a film called 'All Dogs Go To Heaven' :) (GOOGLE IT!)
Q. What's your favourite Christmas food?
How to even answer this!? Christmas food is my fave food! The only thing I'll say I detest is brussles.
Hope you enjoyed! I tag all my readers! Leave your links below and I'll be sure to take a look!
Merry Christmas (nearly!)
Emily xx